Big letters are called

capital letters

. Use them in the following places: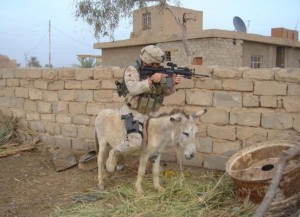 The soldier said to the donkey, 'Stop.' The soldier was lost. He did know if he was in America or Israel. He did know that it was Friday and soon it would be the Easter holiday. His name was John McBride. He was a sergeant – Sergeant John McBride of the US 12th Cavalry Division. The donkey was in the same division, but he was only a corporal.
First letter of the first word of a sentence
• Today's story is . . .
First letter of the first word in a reported sentence
• John said, 'Where have you . . . '
Names of countries, places, languages, and nationalities
• Australia, Berlin, German, Italian.
Titles that come before people's names
• Doctor, Mrs.
Names of religions, followers and holy books
• Roman Catholic Church, Muslim, The Bible.
Days of the week, months of the year, and holidays
• Friday, May, Easter.
Important words in titles
• The History of the Motor Car.
Names of organisations
• Automobile Association, Liverpool Supporters Club.
Periods and events
• The Middle Ages, The French Revolution.
Names of businesses
• Gary Skyner Dot Com.
Abbreviations
• RSPCA, BBC.
Remember: Important words begin with big letters.
Remember: Important words begin with big letters.

Which words should begin with big letters?

Remember: Important words begin with big letters.

I know a shark would be important now, but it still can't start with a big letter. Only important words can start with a big letter.

 

Vocabulary Video Lesson: Love & Romance 1
This vocabulary lesson will help you define date, crush, Mr Right, fall in love, row, split up, chat up line, broken heart and jealous. (8:00)

If you only have two minutes then do this lesson.
Silent b and k (2:00)