You are on a

bus

when you think of it as

transport

. You are

in

a bus when you think about the

inside

of it.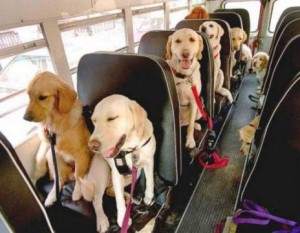 The are seven dogs in the bus.
• I am on a bus with my dogs. We will be with you soon.
(The bus as transport)
• I left my bag in the bus.
(The bag is inside the bus)
• By next week I will be on my boat, relaxing with a cocktail. In the boat there are three cabins.
If the transport you are talking about has only four wheels, a car or a taxi for example, don't use on. Use only in.
• I am in a taxi. NOT I am on a taxi.
• I left my bag in the car.
Remember: On transport. INside the object.
Remember: On transport. INside the object.

When thinking of transport do we use on or in with the following?

Complete the sentences using either in or on.

Remember: On transport. INside the object.

There are three camels in the car.

 

Remember: On transport. INside the object.

I will help you get in the train.

At school and in school
I am at school – in the biology classroom. (3:15)

Vocabulary Video Lesson: The Bermuda Triangle
This vocabulary lesson will help you define cause, theory, trace, incident, evidence, wreckage, vanish, mysterious, disappearance and explanation. (8:00)