I.e. and e.g. are not the same.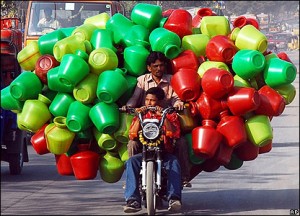 I am an expert on a very important household item. I.e. Buckets.
I.e. means that is. We use it to make a list or statement clearer.
• I sell plastic containers for the purpose of transporting water and other substances, especially liquids. I.e. buckets.
E.g. means for example. We use it to give an unfinished list of examples.
• On my bike I have buckets in many colours. E.g. Red, green.
(There are more colours)
Remember: E.g. for a list. I.e. for clarification.
Remember: E.g. for a list. I.e. for clarification.

I know lots of four-letter words: cart, bore, hoax, lure, malt, etc.

 

Vocabulary Video Lesson: Travel 1
This vocabulary lesson will help you define travel, traveller, trip, journey, view, capital, custom, sightseeing, backpacking and attraction. (8:00)

If you only have two minutes then do this lesson.
Each is singular (2:00)